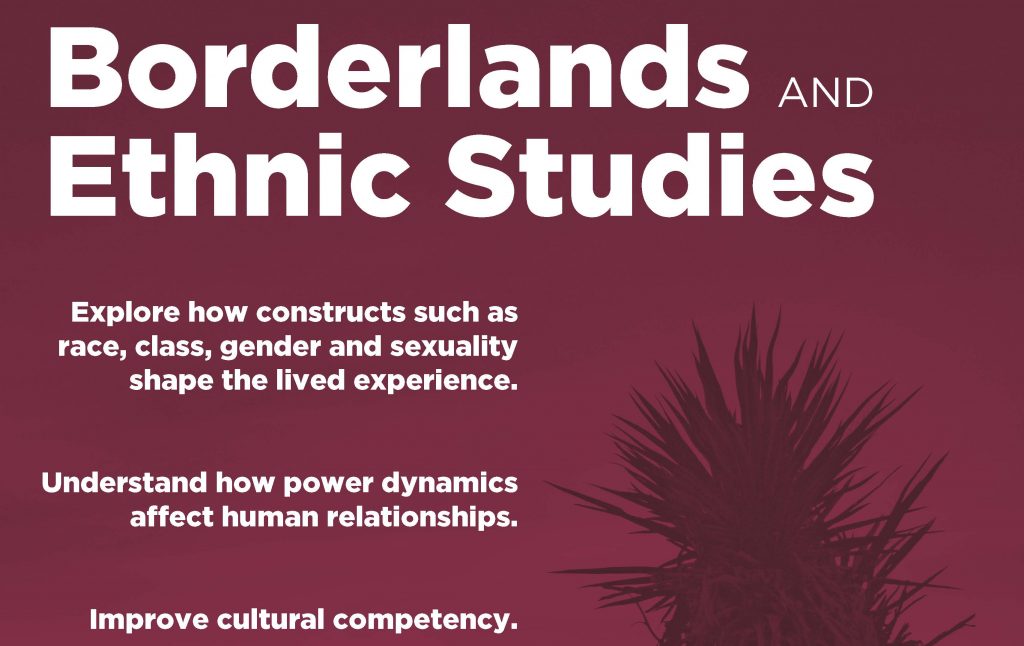 About
Borderlands and Ethnic Studies (BEST) is a multidisciplinary graduate certificate that critically explores the social, historical, cultural, and legal ways communities experience and navigate social constructs such as race, gender, and sexual orientation. These constructs permeate life, are entrenched in social structures and institutions, and shift and mutate over place and time in ways that reproduce existing power relations. The program outlines and analyzes the history, cultural production, politics, and consequences of racialization and identity formation from a diasporic and transnational/transborder approach that remains rooted in a place-based, Borderlands imperative.
Coursework
The certificate addresses a growing need for knowledge in the areas of cultural competency, equity and inclusion, critical thinking and problem solving, and effectively working with diverse populations in various fields such as: education, government, law enforcement, health, environmental justice, communications, social work, law and policy, public history, business and social entrepreneurship. Within the field of education, currently employed teachers and future teachers will be trained in historical and contemporary knowledge of Borderlands and Ethnic Studies through a locally-relevant approach. Teachers will also be instructed in field-relevant pedagogical tools and curriculum design and implementation. This certificate serves a growing cadre of teachers as well as all others pursuing employment in the public service sector. The certificate is comprised of 15 credits of graduate level work.
To obtain the graduate certificate students must complete the following 15 credits:
BEST 510: Foundations in Borderlands and Ethnic Studies (3 credits)
This seminar explores the roots, logics, and administrations of racism within the U.S. context, locally along the border, and framed within a larger global and historical context. In addition to race, other social locations such as gender, class, and sexual orientation are explored as intersectional. The course uses traditional lecture format, multi-media, guest lecturers, and engaging activities inside and outside the classroom to apply materials in tangible and impactful ways.
BEST 511: Methodologies in Borderlands and Ethnic Studies (3 credits)
This seminar introduces the practice of indigenizing research methods by looking beyond the canon of Eurocentric methodologies that have often trapped marginalized communities outside of normative time frames. Through the deconstruction of colonial apparatuses and their influence on research methods, the class explores key concepts in decolonizing research to move us to new understandings of communities according to indigenous traditions that privilege ancestral ways of knowing.
BEST 512: Theories in Borderlands and Ethnic Studies (3 credits)
This seminar provides a basic understanding of theoretical foundations of Borderlands and Ethnic Studies. It also examines borderlands theorizing to critically engage the border not simply as a physical barrier meant to regulate migration, but the economic, cultural, spatial, and metaphorical borderlands that informs us on larger processes of membership, belonging, identity, politics, and dehumanization linked to social structures and institutions. Social movements in the U.S. that sought to illuminate social inequalities and social justice issues are explored. The course investigates the underlying causes and sources of these social movements as they relate to reconceptualizing race and the borderlands and their overall impact on society at large.
BEST 513: Capstone in Borderlands and Ethnic Studies (3 credits)
This seminar is designed to culminate the graduate certificate by summarizing knowledge and experience garnered in pre-courses: BEST 510, 511, 512. Students will be asked to write a reflective essay at the start of the course that highlights 1) materials and ideas that have most impacted the student throughout the core courses, 2) discuss how the elective course complemented and expanded materials and ideas from BEST core classes, 3) what materials and ideas remain challenging to grasp, and 4) what kind of culminating project the student would like to complete. This essay will be the foundational document to carry the student through the semester, along with close guidance provided by the instructor as well as peer feedback.
Faculty and Staff
Director

 

Dr. Dulcinea Lara, Associate Professor, Dept. of Criminal Justice, email: dulcinea@nmsu.edu

Dulcinea Lara, Ph.D., is Director of the Borderlands & Ethnic Studies program and an Associate Professor in the Criminal Justice department at NMSU. She identifies as Chicana Indigena, honoring her Apache and Rarámuri ancestry that is deeply-rooted in the region now called southern New Mexico. Dr. Lara earned a Ph.D. in Comparative Ethnic Studies from University of California-Berkeley (2006). Her teaching and research center the critical viewing and questioning of systems and knowledges that are designed and operationalized to advance some people/groups while creating obstructions for other people/groups. Dr. Lara's scholarship is multi-method and multi-media. She collaborated in the creation of an interactive, bilingual museum exhibition about social justice and inequalities in the Borderlands region called, Trotando Pasos Ajenos (2017). She co-authored the article, "Mirrored Repressions: Students and Inmates in a Colonial Landscape" (Critical Education, 2018). Her current book project details the story of teachers, Nadine and Patsy Cordova, in their reasonable-radical commitment to a social justice-centered education in Vaughn, New Mexico, in the late 1990s. Dr. Lara's work explores various kinds of residual evidence of colonization in colonias, poor and rural communities, and other "sacrificial zones." Her generative work aims to restore these zones into sacred places through collective dreaming, healing, and making.

Core Faculty

 

Dr. Manal Hamzeh, Professor, Interdisciplinary Studies, email: manahamz@nmsu.edu 

Manal Hamzeh is a full professor of Gender and Sexualities at the department of Interdisciplinary Studies of New Mexico State University. Her teaching and research draw on anti-racist educational theories and decolonial feminist research methodologies. Through her tenure at NMSU, she was honored with three teaching awards (2012, 2015 and 2019). Manal's research is distinguished by, being transnational in scope and intimately collaborative and by using art-based qualitative methodologies. Her research is making significant contribution to the contemporary fields of Arabyya and Chicana decolonizing feminist methodologies. She has also made an impact in the fields of Arab Feminisms, Women's Studies and Sport Sociology and also for popular audiences eager to access anti-Orientalist perspectives about Arabs and Muslims. Her research has an international reach, having been published in journals based in North America, United Kingdom and Egypt.
Manal is the sole author of Pedagogies of DeVeiling (2012) and co-author of the short animation film, The Four Hijabs (2016), a collaborative work with playwright Jamil Khoury, of Chicago's Silk Road Rising Theater, Chicago. Manal earned a PhD in social justice education from the New Mexico State University in 2007. She is a second generation Palestinian born in Jordan.

Dr. Nicholas Natividad, Associate Professor, Dept. of Criminal Justice, email: ndn@nmsu.edu

Nicholas D. Natividad, Ph.D., is an Associate Professor in the Department of Criminal Justice at New Mexico State University. His current research focuses on community practices of human rights across borders. His larger research trajectory seeks to investigate political movements that transmit and translate ideas of local communal justice. He was a Visiting Research Fellow at the Senator George J. Mitchell Institute for Global Peace, Security and Justice at Queen's University in Belfast Ireland.
He is the co-creator of the museum exhibit Trotando Pasos Ajenos: Social Justice and Inequalities in the Borderlands, an art and cultural exhibit that focuses on regional issues of justice inequality as they pertain to identity, environment, history, immigration, faith, and law.
He is a former Dean's Fellow in the College of Education at NMSU and a former Fellow in the New Leadership Academy at the University of Michigan. He is a huge advocate for community engagement initiatives and believes education should offer outlets for students to learn from and give back to their communities.

Dr. Donald Pepion, College Professor, Dept. of Anthropology, email: dpepion@nmsu.edu

Donald D. Pepion, Ed.D., is a College Professor who teaches Native American Studies courses in the Anthropology Department at New Mexico State University. Pepion has an extensive background in education, health, and tribal government including an appointment as President of Blackfeet Community College. As an enrolled member of the Blackfeet Indian Nation, he is a member of the following societies: Brave Dog, Rough Riders, Medicine Pipe, and Beaver Bundle. The elders of the Blackfeet Nation honored him as a leader in a War-bonnet transfer ceremony in 1985.
Pepion's publications and interests include indigenous ways of knowing, participatory research methodology, decolonizing and indigenizing theory and methods, theories and practices of oppression and colonization, critical theory and tribal critical race theory, Native American spirituality and philosophy, Indigenous cultural strengths and resiliency, Native American traditional learning processes, Indigenous leadership concepts, and ethnohistory of the Blackfeet.

Affiliated Faculty

 

Dr. Judith Flores Carmona, Associate Professor, Honors College Faculty Fellow, email: judithfc@nmsu.edu

Judith Flores Carmona, Ph.D. is Associate Professor and Faculty Fellow for the Honors College at New Mexico State University. Before joining NMSU she was an Andrew W. Mellon Post-doctoral Fellow in Critical Literacies and Pedagogies at Hampshire College (2010-2012). Her research interests include critical pedagogy, Chicana/Latina feminist theory, critical race feminism, critical multicultural education, social justice education, and testimonio methodology and pedagogy. Her work has appeared in Equity and Excellence in Education, Race Ethnicity and Education, the Journal of Latino/Latin American Studies, the Journal of Latinos and Education, and in Chicana/Latina Studies: The Journal of Mujeres Activas en Letras y Cambio Social.
She has two co-edited books, Chicana/Latina Testimonios as Pedagogical, Methodological, and Activist Approaches to Social Justice with Dolores Delgado Bernal and Rebeca Burciaga and Crafting Critical Stories: Toward Pedagogies and Methodologies of Collaboration, Inclusion & Voice with Kristen Luschen. She also co-authored, Un-Standardizing Curriculum: Multicultural Teaching in the Standards-Based Classroom (2nd Edition) with Christine Sleeter.
Dr. Flores Carmona is the daughter of Josefina and Vicente (QEPD). She was born in Veracruz, Mexico, raised in Los Angeles and is a first-generation college student and scholar. Her academic and community work is guided by a sense of responsibility and commitment to social change.

Dr. R. Joyce Garay, Associate Professor, Latina/o and African American Literature, email: jgaray@nmsu.edu

Joyce Z. L. Garay, Ph.D., carries lineage of the borderlands, an embodied history of a migratory route from the Mexican state of Chihuahua into Colorado (her birthplace) and through the states of Idaho, Utah, and Arizona. She came to New Mexico State University's Department of English as a return to place, to original desert knowing. With a Ph.D. from Arizona State University's English Department complemented by immersion in the interdisciplinarity of the Transborder Studies Department, she is a first-generation scholar and currently an associate professor in her sixteenth year of service and commitment. Her areas of teaching and research include the plurality of voices within U.S. literary and cultural production, with particular focus upon Chicanx, Latinx, Black, multiethnic, borderlands, and intersectional feminist traditions, innovations, and interventions.
Courses offered regularly: Engl 339V: Chicanx Literature; Engl/GSS 380G: Women Writers; Engl 394V: Southwest Literature; Engl 4/517: Intersectional Feminist Theories; Engl 4/558: Latinx Literature; Engl 4/559: Black U.S. Literature and Culture; Engl 4/569: Multiraciality and U.S. Literature; Engl 4/589: Borderlands Representations. 

Dr. Jeanette Haynes Writer, Professor of Curriculum and Instruction, College of Education, email: jeanette@nmsu.edu

Jeanette Haynes Writer, Ph.D., is Professor of Curriculum and Instruction at New Mexico State University. She joined NMSU in 1996, as the first Native faculty member hired in College of Education.
Dr. Haynes Writer has served in leadership and board positions for the National Association for Multicultural Education, the American Indian Studies Association and the Association of Teacher Educators. She served as department head of Curriculum and Instruction, one of the largest and most complex departments at NMSU.
Dr. Haynes Writer's areas of scholarship include Tribal Critical Race Theory; critical multicultural and social justice education; Indigenous education; Native American identity; and teacher education. She has published in journals such as, Action in Teacher Education; Anthropology & Education Quarterly; International Journal of Education & the Arts; International Journal of Multicultural Education; and Journal of Praxis in Multicultural Education. Her most recent work concerns the recruitment and retention of Native and other historically under-represented faculty, Native American science curriculum, and Native American intellectual activists foundational to multicultural education. Dr. Haynes Writer's co-edited book, with Dr. H. Prentice Baptiste, Visioning Multicultural Education: Past, Present, Future, was published in 2020. 

Dr. Spencer R. Herrera, Associate Professor of Spanish, Department of Languages & Linguistics, email: spencer@nmsu.edu  

Spencer R. Herrera, Ph.D., is an Associate Professor of Spanish at New Mexico State University in Las Cruces where he teaches Chicano/a Studies. He is the co-author of Sagrado: A Photopoetics across the Chicano Homeland (UNM Press, 2013), winner of a Border Regional Library Association Southwest Book award, a New Mexico-Arizona Book award, and a Pima County Public Library Southwest Book of the Year award. He is the author/editor of Before/Beyond Borders: An Anthology of Chicano/a Literature (Kendall/Hunt, 2010). He also guest edited a special issue on Chicano/a literature for Revista Casa de las Américas, a premier Latin American literary journal published in Habana, Cuba. He was born and raised in Houston, Texas, but has enjoyed living in Nuevo México with his wife, Jessica, and their two daughters, Sofía and Emiliana, for nineteen years. He completed his Ph.D. in Spanish with a minor in film at the University of New Mexico.

Dr. Christina A. Medina, Department of Government, Associate Professor, Masters of Public Administration (MPA) Program Director, email: camedina@nmsu.edu

Christina A. Medina, Ph.D., is an Associate Professor of Government and the Director of the Master of Public Administration (MPA) program at New Mexico State University (NMSU). She earned her doctorate in Public Affairs at the University of Colorado at Denver in 2008. Her research interests include education policy, immigration policy, program evaluation, and community engagement. Dr. Medina has published articles on Public Administration, education policy, cultural competency, parental involvement, and on issues regarding higher education, specifically Hispanic serving (HSI) and Minority serving (MSI) institutions.

Dr. Cynthia Fabrizio Pelak, Associate Professor, Department of Sociology, email: cpelak@nmsu.edu

Cynthia F. Pelak, Ph.D., is an Associate Professor in the Department of Sociology at NMSU. Her primary research and teaching interests are grounded in understanding the processes by which social inequalities are institutionalized, reproduced, and collectively challenged. She employs a place-based sociological imagination that focuses on intersecting inequalities of race, gender, and class in U.S. settler-colonial society. Professor Pelak's scholarship connects insights from a wide-range of literatures such as sociology of race and ethnicity, social movements, gender and feminist studies, sociology of sports, sociology of education, collective memory studies, South African studies, and scholarship on teaching and learning. Her current research agenda focuses on indigenizing and decolonizing her sociological imagination and examining processes of social inclusion and exclusion within higher education in the U.S.-Mexico borderlands. Dr. Pelak currently teaches Introductory Sociology (SOC 101), Gender and Society (SOC 357), Sport and Society (SOC 394V), Advanced Race and Ethnic Relations (SOC 571), and Social Stratification (SOC 575). Professor Pelak could not be more thrilled and humbled to join the faculty and students affiliated with the new NMSU Borderlands and Ethnic Studies Program.

Graduate Assistant

 

Ms. Cynthia Wise, Graduate Assistant, Borderland and Ethnic Studies Program, email: Cynde@nmsu.edu

Cynthia Wise is a 2nd year PhD student in the College of Education's Teacher Preparation, Leadership & Administration program. Before entering the doctoral program she was an award winning journalist, with more than 30+ years in radio & television broadcasting. She holds a Master's Degree in Educational Leadership & Policy Studies from the University of Washington, a Bachelors of Arts in Government from New Mexico State University and is a proud graduate of Gadsden High School. Her research frames include Tribal Critical Theory & Critical Race Theory, with an emphasis in ethnic studies and what she likes to refer to as the acknowledgement gap (Tollefson & Magdaleno, 2016) – those policies that contribute to the continued marginalization of students of color, students with disabilities and children of non-traditional households. Currently, her main projects involve: 1) an examination of the implications of the landmark Yazzie/Martinez ruling on New Mexico's k-12 students and, 2) policies & power imbalances that affect transfronterizo students' attempts to obtain an education in the United States. Cynthia is the proud mother of her daughter Eryn, a sophomore at Life Pacific University. In her free time (do doctoral students have free time?), Cynthia enjoys exploring the Southwest, baking (you should taste her chocolate chip cookies!) and needlework.
Equity, Inclusion, and Diversity
BEST program aims to serve all students at NMSU and its culturally responsive curriculum focuses a lens on underserved populations and communities. This aligns with NMSU's Hispanic and Minority Serving Institution designations as well as its Land Grant mission. The BEST program, through hiring and retaining diverse faculty, hosting culturally diverse programming, and offering a critical and cutting edge curriculum, aims to boost NMSU's overall dedication to Equity, Inclusion, and Diversity.
In the News

Racial Justice
HEAL Project (Coming soon)
Partners
Las Cruces Public Schools passed an Ethnic Studies Resolution in May 2017. The resolution calls for implementation of ES classes K-12. 
FAQs
Can the Certificate be taken as part of a Masters or Doctoral degree program?
Yes, the design of the certificate and unique multidisciplinary course offerings allows students to be enrolled in another graduate program.
What career benefits does the certificate offer?
• strong written and oral communication skills
• critical thinking and analysis
• knowledge about human behavior and interactions with systems/institutions
• cultural competency, ability to work effectively with diverse populations, capacity to
analyze impacts of law and public policy on underrepresented communities, excellent research skills, team-building and group-centered leadership skills